Archive for the 'Video' Category
A brilliant parody by the Lumascape creator of the Dos Equis' "Most Interesting Man in the World" ad. At AC Lion, we're huge fans of Lumascapes–and fans of good humor. Way to go, Luma Partners!
I have seen things grow. My youngest cousin Jeremy was born when I was 12 years old. He is now eight years old and I remember when he started crawling, walking, and talking. I have watched my basketball team grow from a middle of the pack team, to a potential contender, to a team that won its final eight games in a row en route to a championship. When it comes to people and basketball teams, I can tell you how they will grow and what to expect. After spending my summer at AC Lion, learning from people like Alan Cutter, Mike Adler, and Giles Van Praagh, I have developed a strong understanding of startup growth and venture capital.
The progress of a startup company is extremely dynamic and exciting to follow. Once someone has an idea and makes the decision to try and turn it into a company, you need money to get started. In most cases, they will turn to family and friends to get their angel funding. An entrepreneur will either take on debt or give out percentages of equity in exchange for capital. Debt can come in the form of a loan or a convertible note. In the case of a convertible note, an investor will receive equity if they have not been repaid at the loan's maturity date. This is an important milestone because you will have your first company valuation. If you choose to issue equity, value your company at $1 million, and need $100,000 in angel funding, then your company valuation after receiving funding will be $1.1 million, and you will have given away 1/11 of the equity of your company.
All startups need to have an exit strategy. Either they will keep going through rounds of funding until they go public, or they will try to find a niche in an already developed market and work towards a merger or acquisition. Facebook held its IPO on May 18, 2012, the biggest ever for a technology company. Mark Zuckerberg adeptly navigated his company from a Harvard dorm room to an IPO, resisting the temptation of selling to both Viacom and Yahoo. Facebook has acquired numerous companies, most notably, Instagram for $1.01 billion. As Instagram's user base exploded, Facebook quickly moved to acquire the photo-sharing platform. Facebook's path to an IPO was not as smooth as most assume. In Facebook's 2007 Series C round of funding, Microsoft purchased a 1.6% stake for $240 million, giving Facebook a valuation of $15 billion. In Facebook' 2009 Series D round, Digital Sky Technologies bought a 2% stake for $200 million, dropping Facebook's valuation down to $10 billion. A decreased valuation hurts the position of everyone with a stake in the company. Following their Series D round, Facebook's stakeholders watched their holdings drop to 2/3 of their prior value. Facebook has since rebounded nicely, however a less developed company can go under following a decreased valuation. A decreased valuation is one of the many ways that a startup can fail. An article published on Business Insider last June captures nearly all of the paths to failure for a young company. The exit strategies, or lack thereof, these companies planned to carry out simply failed, as is the case with most startups.
Tremor Video and Yume are two smaller scale companies, prominent in the digital media space, which recently went public. Yume's shares first began trading on the NYSE on August 7, 2013. They were strategically priced at $9, well below the expected range of $12-$14. This came in response to Tremor Video's disappointing first month since going public. Tremor Video held their IPO on June 27, 2013 and priced each share at $10. Less than 2 weeks later, share prices had dropped as low as $6.81. Shareholders are anxiously anticipating Tremor Video's announcement of their Q2 earnings. This will allow accurate for predictions of thee company's outlook. Yume, hoping to avoid similar concerns, saw their stock price close their first day right where it started. So far so good for Yume; they hope their growing profitability will lead to large returns for investors.
Yume and Tremor Video are part of the extreme minority of companies that are fortunate enough to file an S-1. A startup realizing its exit strategy is just like winning a championship in an 18+ Men's basketball league at your Jewish community center. That is the goal, and you need to grow before you can get there.
As I write this final paragraph, I am just an hour away from the end of my summer internship with AC Lion. It has been a great ride, giving me exposure to the digital media world that I was always close to, but was never a part of. At AC Lion, I was a part of something. I grew close with the interns, working on various projects together. I learned a lot from my bosses/mentors Alex Yee and David Carona aka Doc Knowledge. I owe them a lot and look forward to keeping in touch with everyone at AC Lion.

Ariel Lopez • Aug 8, 9:32am
The employment process is often much like dating. You spend time searching through tons of prospects in hopes of finding the right "fit." It's often very time consuming, nerve wracking, and it may take a few duds before you find success. The first interview with a company can remind you of a first date: you spend days preparing for the big moment, hoping that you say all of the right things and do your best to bring your A game.
Of course, as a job seeker, you want to make sure you leave the right impression, but many people forget that an interview is meant to be interactive. The purpose behind interviewing – like dating – is to give both parties the opportunity to feel each other out. You have to be engaged, attentive and actually offer value if you expect to get a call back. As with a bad date, one false move or bad response could immediately eliminate all hopes of securing your dream job.
Here are a few things to avoid:
Never ask about something you could have easily looked up
Asking what the company does, who the founders are, or general questions about the role you're interviewing for can put you out of the game – fast! Look at the company website and spend time studying what they do and where they're going in the future. I often suggest looking into competitors, as well, just to get a feel of the company's positioning in the marketplace. Also review the job description! That is an easy way to gage what area the company needs support in, and it can give you a guide as to how you can provide value. Always highlight how you can provide the solution to their problems.
Never ask about time off, lunch breaks, or holiday schedules
You haven't gotten the job yet, so none of this matters! If you ask about any of this on the first interview, it's basically suggesting that you don't really care about the job; you just want to know about the perks. These questions are only appropriate later on in the process (like if you get are expecting an offer), after the company has shown genuine interest in bringing you on board.
Never ask about drug tests or background checks
Very simply put, don't be an idiot. If you ever initiate a conversation about this, you're screaming, "I have something to hide, and I want to cover it up before it's too late." I've never heard of someone being hired after asking about a screening process.
Never ask about compensation
Inquiring about how much the job pays during the initial interview translates to the interviewer asking you to get the hell out of his office. Of course, compensation matters.
You want to make sure the job can support your comfortable lifestyle. However, it should NEVER be brought up on the first interview. It's best to do your research to see if it's in the range of what you're looking for.  Look up reviews to see what other people at the company make. You can also research the specific position to gain a better understanding of what's fair in the market for the role at hand.
Most importantly, be confident, and be yourself! Don't do anything strangely out of character, keep your head up and try to keep your nerves controlled. Also, bring out as much of your personality as possible. Remember, different companies garner unique cultures. If you don't seem like a good fit for the company's goals and environment, it can hurt your chances. Proper preparation, good questions, a bit of humor and great body language can get you very far.
Good luck!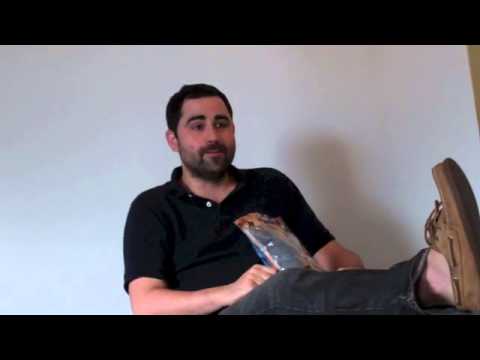 Photo courtesy NBC Suits
Oh, and this interview will be done by video. You have a webcam, don't you?
Does that statement bring visions of bad YouTube videos and Marco Rubio's water glass flying in front of your eyes?
The use of video interviewing is growing rapidly. It's a convenient and cost-effective choice for organizations looking to streamline the talent acquisition process. Great for HR, but how do you make it work for you?
It's totally different from a phone screen or in-person interview. And if you don't recognize the differences, it can come back to haunt you. First, the different types:
The video screen. Some companies are using standardized video interview services as an entry-round screening tool. In this approach, the exact same questions are asked to every candidate, whose answers are then scored and reviewed. The candidate generally has 30 seconds to review the question and a preset response time. Usually the questions are computer-delivered: in other words, you're not talking to a live human being. I call this the video screen – think a one-sided screen test, not a conversation. Such tests are usually compiled into libraries for future reference.
The video interview. A true video interview will be just what the name implies – you and another person, having a Q&A/conversation. The only difference is that you are doing this by Skype or webcam, not face-to-face. Here you are having a real conversation, the more natural give-and-take. While the interviewer may have some preset questions (all good interviewers do), the response time will be more open. Getting real-time feedback from the interviewer in the form of verbal and visual cues can be invaluable.
The video resume. This is a way to present yourself. It augments (or in some cases, supersedes) a paper resume. You totally call the shots here – the content, the visuals, and the format. It's like a visual elevator pitch. Think of a dating site video – this is your way to separate yourself from the pack. My company started using these way back in 2003 and 2004. For some people it really helped seal the deal.
Some pointers for making the best of your video interview:
Make sure the technology works. Sounds obvious, but sometimes the little things come back to haunt you. It won't help you if the other person is twiddling her thumbs as you fiddle with the mic, asking "Can you hear me now?" Be prepared, as there's no tech department, no AV guy for you to call – you have to make it work.
Set the scene, visually. Place the camera so it focuses just on you – ideally a tight head/shoulders/desk shot. Avoid things behind you that will distract the viewer (anything moving, traffic, bright lights, kids, and pets). And check out the lighting in advance – your face should be clearly visible and not in shadow.
Choose your clothing wisely. No, a suit is not always the right answer. But for a video interview, where someone could be seeing you on a small smartphone screen or a large-screen TV, choose solid, conservative colors (except bright white). You seldom see small stripes or busy patterns, which may pixelate when you move. For good examples, check out what the news announcer is wearing – easy on the eyes.
Make eye contact.That usually means looking at the camera, not down at the desk or table. And not awkwardly reaching for an off-camera water bottle. Using notes? Great preparation but don't let it show, as it may cause you to look away from the camera. The top of your head is not the lasting image you want them to have of you.
Monitor yourself. If you can, keep that picture-in-picture of yourself on the screen. Are you sitting very far forward in your chair? In a video format, that can sometimes seem too assertive. Is your body language showing interest? You'd be amazed at what you see.
Monitor your interviewer. Like in an in-person interview, you get to see the other person's non-verbal clues. Use them! A good trick to get their attention if it's wandered – address them by name.
Let's go to the videotape! Do a dry run of the complete tech and visual setup a day or two in advance. Wait 24 hours and then watch it with open eyes. Have a friend or mentor offer feedback. Like a baseball player analyzing his swing, you'll notice the little hitches that make a world of difference.
A video interview is a real interview. And like a "real" interview, blow a question, show up late, be unprepared, and your application will get tossed to the bottom of the barrel. And given that this video interview can be reviewed and rated and shared throughout the organization, endlessly, it can be even more important than your typical phone screen.
You never get a second chance to make a first impression – and that is even more important if your embarrassing first impression winds up on YouTube.
Earlier this morning I attended PluggedIn Ventures Roundtable:"Second Screens & Social TV" and it couldn't have been better. I jotted a few notes and here's a quick summary:
Social TV, a general term for technology that supports communication and social interaction in either the context of watching television, or related to TV content is truly taking off and is the way of the future. While some have doubts there are already strong trends showing it will take over in the very near future (think of the hashtags in the corner of a show, by tweeting with that hashtag you not only can join in on relevant conversations, but you are also providing easy data points).
Currently, there are about 18 million unique social TV viewers and growing – social TV generates referrals and gives the advertisers the opportunity to hone in on a target market; according to Oliver Young of Blue Fin Labs, "Ads for social TV are meant to interact with the show, which create the organic word of mouth for advertisers." There is nothing better than a word of mouth referral. From a consumer's standpoint, I would much rather receive ads that discuss fantasy football than potpourri – it's the same idea how Google sends you ads based on your Gmail conversations.
Additionally, social TV benefits the networks and shows directly. For the first time ever, shows can figure out (almost instantaneously) where their content fails or succeeds. WWE Raw actually experimented with something similar with a "click to vote" idea. Essentially they asked the people in the arena to pick match-ups for later on in the evening; sure enough there was an overwhelming response (I know, how could you pick who fights who if wrestling is real – this is a whole different and important conversation that will hopefully be discussed at the next roundtable).  Giving your audience what they want is the smartest and simplest way to keep them coming back for more, a.k.a.: retention. A prime example of a successful social TV campaign is the show "The Walking Dead;" their social presence is unbelievable (they actually promote Twitter chats for the show, during the show!) and while it may not be the reason it's the most tuned into show, it most definitely attracts viewers because of it – I know this because I am one of the many that began watching due to its social traction.
On a very similar note, look at Old Spice (while some might consider them an outlier I see them as trailblazers), they took an intimate product and made it sexy and cool. This was done through their social TV campaigns and by making "cooler ads" – a simple yet true comment from the roundtable. One of the reasons why Old Spice exploded is because they themselves, as well as their ads, are relatable and interactive.
One interesting issue that was slightly broached was live TV – Twitter is a real time tool (about 60% of the time) and Tivo (or DVR) being the most amazing creation since television itself, takes us out of that real time element. A quote that was thrown out and stands true for just about anything, "People want the path of least resistance" and with television that translates into no commercials.  I would much rather watch a Chicago Bears game in an hour and a half instead of the 3 hours it takes for the live broadcast. That being said, according to David Markowitz of SecondScreen Networks, "Social TV will be good for advertisers over time. It forces the viewer to watch TV live to get the full effect." This I firmly agree with, while I may strongly oppose commercials I am all for live friendly banter during a Chicago Bears game.
So Will Twitter ignite more real time TV viewers? I would bet on yes. People are already being active and seem to enjoy it; according to this Nielsen study a third of active Twitter users tweeted about TV related content and those numbers are growing.
Lastly, with all this talk about Twitter, one might wonder where the other social media powerhouse (Facebook) comes in – it doesn't.  At least not until Facebook opens their data will they be able to compete with Twitter in the social TV world – to quote David Beck of Univision, "Facebook has to open up their firehouse to combat Twitter and their reach with TV."
Bottom line: Social TV is a forward thinking venture that will ultimately prove majorly successful (and profitable) for the masses very soon; it also doesn't hurt that Social TV was listed as one of the 10 most important emerging technologies by the MIT Technology Review in 2010.
Thanks to Eli Mandelbuam of PluggedIn Ventures for putting everything together; props to Rich Ullman for doing a fantastic job as the moderator and thank you to an impressive panel – it was an amazing conversation to be a fly on the wall for – looking forward to the next one!
How are they doing it?  Let me count the ways!
Cablevision matches the names and addresses of their subscribers with regular ad data from third parties, and, voila, different ads to different set top boxes, even if you are watching the same show.    Uses VisibleWorld  Say it's a hotel ad:  the mom types get an ad promoting their family based activity.   The single guy's ad highlights their clubs and nightlife. 

Dave Morgan, of Tacoda fame, uses your channel changing habits to target ads.   He uses algorithms to categorize the set top box (not the viewer) and targets ads according.  Simulmedia  tracks the data second-by-second.  You like satire news?   You'll get the edgier version of that ad.

Rentrak, a TV-measurement and advertising-services firm, works through your live-TV and DVR  viewing. The company, in some cases, measures videos watched on mobile devices, too.

Even TiVo got into the game.  Partnered with TRA, which matches real time data for TiVo boxes, a cable operator and other data, like store frequent shopper cards.    Experian PLC matches the TiVo box to your address through the store card.  Now they know what you watch, what you buy and where you live.    My fave correlation?   TRA found that watchers of "Jersey Shore" are regular buyers of yogurt.  And here I thought it was tanning services and cheap booze.

And let's not forget Google and the long discussed GoogleTV.   When they finally get it right, they'll be a big player.   Imagine if they use your email content and TV viewing to target ads?
BTW, I've been talking mainly about consumer products here. Can you imagine when political candidates start targeting ads by voter?
Click below for more:
Well, the show 9 to 5 may have been a bust on Broadway but the newest musical approach to giving notice caught my eye today. YouTube's former Head of Industry Marketing, Kristin Kovner, uses her favorite video site to sing her resignation. Yep, you saw that right—sing her resignation. In a warbling rendition of "I'll Be Seeing You," she tells her colleagues that she's leaving Google for AOL. Kudos to Kristin for creativity—and promoting a great new way to say "let's stay in touch."

She's the latest of a stream of Googlers crossing over to the other side at AOL (followers of Tim Armstrong and Jeff Levick unite!) BusinessInsider is lamenting the Google Brain Drain The Google Brain Drain Goes On And On
listing 17 top people to recently leave. Even have a graphic interface highlighting the ex-pats. Yes, that talent is in demand—and other employers will pay top dollar. Yes, Google is much bigger and has probably lost its entrepreneurial vibe. And yes, a larger company means more internal competition (read: less promotions) for top talent. But Google's strength has been hiring the best and the brightest. Now, they just have to keep them. Even if there's no free lunch anymore.
So Kristen is just the latest brain to drain from Google.
One final note to Kristen—don't quit your day job. Yet.
Bonnie Zaben is COO of AC Lion. Her 20 years experience has taught her that exiting gracefully is the sign of a true professional. She's seen resignation letters, stay in touch emails, let's do lunch air kisses and even someone who was fired by voicemail. But YouTube to resign was a new twist!
Article By: Joshua 'The Red' Russak (Red@aclion.com)


"Viral Video of The Day" is part of this blogs timely Friday Tradition, as provided by my friends at ViralVideoChart.com. They marked an interesting #1 video for today. So for all of you marketers and mobile junkies out there obsessed with your PDA and e-mail, you'll love todays Viral Video of The Day:
Introducing Gmail for mobile 2.0
That's right! A geekie video made it to #1…and with reason. For all of you using PDA's, the proprietary email application can be quite plain (static, no html, courier new, etc.). Well, this is probably more applicable to "Blackberry Users". Well, today's viral video promotes Gmail's Phone Application. The guy's kinda funny in the video, in a geeky google kind of way. How this made #1 for the day, I'm not sure…

Article By: Joshua 'The Red' Russak (Red@aclion.com)

As part of this blogs timely Friday Tradition, "Viral Video of The Week" will become a regular thing. This week I've decided to include 2 videos for 2 reasons. The first reason is because it's a "Friday" and that is self explanatory. The 2nd reason is because both videos have 1 thing in common: The 2008 Elections! Their popularity is due to their humorous approach to what the number 1 thing on America's mind right now. All stats and info can be found at
ViralVideoChart.com
. According to them, both videos have been "spreading across the interweb like Wildfire!"…
Discovered 01 Oct 2008
591,159 views
283 blog posts

The 2nd Video, 5 Friends Uncensored, is #2 Viral Video of The Day:
Discovered 01 Oct 2008
615,283 views
340 blog posts
At this point you should be asking yourself, "How is #2 if it is has over 20,000+ more views and 50+ more Blog Posts than the Simpson video?". I'm not sure either, but while I go ahead and contact ViralVideoChat, check out the video below:

I sent an e-mail to both Scott & Matt of UnrulyMedia, the creator of this site and this is their response:
"We rank videos based on linking and sharing on the web rather than views – similar to how google ranks sites on it's search engine.
Partially we do this because it's information that is standard across sites (the definition of a view varies from site to site) and is a bit harder to manipulate and partially because that's the way we've always done it…
Hope that explains it!
Matt."
So there's the answer! Now go drink and enjoy your Friday!
Article By: Alan Cutter, CEO (a.cutter@aclion.com)


Paltalk and buzz/viral marketing company Vanksen Culture Buzz took viral marketing to a whole new level with this one…