Archive for the 'Online Media' Category
The rise of programmatic buying has impacted not just the delivery and pricing but the sales process itself.   Publishers are scrambling to adjust their sales teams and processes.  A year ago, many large publishers were adamantly refusing to sell their inventory through exchanges.  Now, most of them have jumped on the band wagon, albeit kicking and screaming.   The latest to fall was Turner, which this week announced it was starting its own in-house exchange.
The ad sales model is being disrupted and it's impacting the role of the digital salesperson. The traditional sales force, selling premium advertising using the direct sales, relationship model, is being edged out of the picture.   Media sales people, who spent their time coaxing media planners and entertaining clients, find that trying to build custom ad solutions is becoming a tough sell.  Now, part of their job has been replaced by a machine—one that is more efficient, more data driven, and less complicated.
Technology has changed the way ads are traded. Programmatic is delivering eyeballs and audience with better speed, more accurate targeting and more efficiency.   The automated technologies can reach many more buyers of inventory than a legacy direct sales team could.  It's a numbers game.
The new profile of the ideal sales candidate has drastically changed.  Now companies need someone much more data driven, more of data wonk than a relationship person.   What worked five years ago doesn't work today.    Larry Herman, of EyeReturn Marketing , deals with this every day.    "From our perspective, this is very different from the traditional online media sale.  While personality and the ability to navigate both the agency and direct marketer ecosystems are key, we need folks that understand technology, aren't afraid of math and can convey how we're able to sell an audience." EyeReturn, which combines a DSP, ad server and verification and reporting systems, would need more than just a classic media solutions salesperson to move the needle.   Hard to have a relationship driven sales person talk to a media trading desk.
Publishers are finding it harder to sell that premium space, though some have not given up.  Turner is trying to hedge its bets a bit as it steps gingerly into the programmatic world.  Its exchange is accessible only to its 'valued partners' and will require a personal relationship with one of their sales team.    Premium is becoming a smaller part of the publishers' revenue.   Programmatic is not just for remnant inventory anymore.  And it's freeing up those human resources.
Transactional buying and legacy sales teams are usually two separate approaches. Some publishers have tried to keep both channels going, but it's not a natural pairing. Many publishers are siloed, with direct and indirect sales channels not mixing.  And don't even try to add analytics to their mix.  The structure of many sales teams is old school, and can hold things back.
One way some publishers handle this oil and water mix is by paying sales people for programmatic buys.  No matter how the deal gets done, the sales team is compensated.   This keeps the sales team motivated, saves the publisher from having to redo their compensation structure, and keeps all the sales components on the same team.
To sum it up: It will take some evolution on the part of those classic media sellers to compete in today's Big Data market.   Yet, I believe, as with many trends, they are cyclical.  Relationships have always driven sales, and eventually the machines will combine with the relationship, and that will be a happy day for the ad sales executive.
Social networks are great but every now and then, it can't compete with meeting someone face-to-face, shaking their hand, maybe grabbing a cup of coffee together. I heard that 90% of all people are afraid to walk into a room they don't know and mingle. A mingler is someone who starts, continues and maintains communication and contact in a warm, pleasant manner. As one of the fearless ones who loves to mingle, here are some tips for making the most of it, and professionalize your approach.
1. Pick the right event. If this isn't your forte, start small. You don't need to go to an event of 1,000 and feel like a wallflower. Chose an event with less than 30-40 people, maybe a meeting for professional association, or workshop, or panel discussion. Having a common interest makes that conversation even easier. And maybe even productive.
• Scared to walk into the room? Go up to someone who is alone. That person will be more likely to engage, and may even be appreciative. Consider selecting someone who looks like you may have something in common. Maybe comment on their really cool Bluetooth, dual headset, or newest 5s. Hey, is that the 5s? What do you think of the fingerprint technology?
• Another approach? Get in line for something—drinks, food, coat check, it really doesn't matter. Its easy way to meet people and you'll feel less awkward standing around. All you have to say "So what do you think of the event so far?"
2. Prep your pick up line. Ok, maybe it's an opening line in this context. But the idea is the same. You need a strong opening gambit to kick start the conversation. Some possibilities for business networking are:
• Hi, I'm Alan . . .extend the hand. It's often that easy.
• I don't think we've met yet, I'm ____ and you are?
• What brought you here tonight?
• Hey, I'm a few minutes late. Have I missed anything?
• Look at their name tag and use it as a conversation starter. "Hey, I saw that your company is . . ." Or "I noticed that you are working at ___company, what's it like to work there?"
Start with lite and easy things and always phrase it to end with a question, so you'll get a response.
3. Now, keep that conversation flowing. Prepare some topics that enable you to build rapport, and maybe gather some helpful professional information. Your goal here is to have an easy, breezy, 10 minute conversation that you can build upon later.
• Pick up on a trend in your field. Either something you feel comfortable discussing or something you really want to learn about.
• Ask about a recent move in the field. As I'm writing this, the NFL is announcing a partnership with Twitter. Talk about the impact of Twittervision, of social media simultaneous with live TV, of Twitter beginning to really capture ad dollars.
4. The dreaded "What Do You Do?" question. At some point in the evening, someone will ask. Be ready to easily and smoothly answer that question,
• Most people want to impress someone with their answer. That usually means going for the title. So great, I'm a CEO. Nice fact, but it doesn't really drive the conversation. Compare that with "I help growing companies take it to the next level" or "I build sales and marketing teams for emerging media companies"
• Focus on your asking. Adding what you do is a critical question, but you'll put someone more at ease and often impress them if you schmooze for a bit, before going for the throat. Casually, after a few minutes, you can say "So, what do you do at Google?"
• Think of interesting sound bites. This doesn't have to be dry information. It's not a factsheet but a conversation. What differentiates you? How about if I told you that I started a networking group for digital media surfers on the East Coast?
• Rehearse this in advance. When you think you have it down pat, record yourself (or call your own voice mail and leave it as a message). Wait a few hours and listen to it honestly. It's like videotaping a batter's swing: the analysis is what helps you improve.
5. A Great Get to Know You Question: Now that you met the person, how can you build on the relationship? One of my favorite questions is: "How would I know if I'm speaking to someone you would like to meet or could possibly use your services or that of your firm?" I learned this years ago in a training seminar about networking and have used it many times. It always works: implies that there will be follow up and could be on their terms. People love it.
6. "Grip, Grin, Go" Know how to exit, know when to move on. Has this conversation reached the limit? You bored? Mess up? Exit with grace.
• Honesty is the best policy; you don't need a crazy excuse to leave a conversation. Tell them it was great chatting with them, and that you hope they enjoy their time there.
• Be sure to offer your business card, and get the other person's card.
• Know where you are headed. Can be awkward to end a conversation and just turn your back to the person. Move at least 5 feet away.
Now, you are ready to dive in. Set a goal for yourself: maybe to get three cards from your first event. Take a deep breath, be prepared and enjoy yourself. And let me know how it goes.
A brilliant parody by the Lumascape creator of the Dos Equis' "Most Interesting Man in the World" ad. At AC Lion, we're huge fans of Lumascapes–and fans of good humor. Way to go, Luma Partners!
I have seen things grow. My youngest cousin Jeremy was born when I was 12 years old. He is now eight years old and I remember when he started crawling, walking, and talking. I have watched my basketball team grow from a middle of the pack team, to a potential contender, to a team that won its final eight games in a row en route to a championship. When it comes to people and basketball teams, I can tell you how they will grow and what to expect. After spending my summer at AC Lion, learning from people like Alan Cutter, Mike Adler, and Giles Van Praagh, I have developed a strong understanding of startup growth and venture capital.
The progress of a startup company is extremely dynamic and exciting to follow. Once someone has an idea and makes the decision to try and turn it into a company, you need money to get started. In most cases, they will turn to family and friends to get their angel funding. An entrepreneur will either take on debt or give out percentages of equity in exchange for capital. Debt can come in the form of a loan or a convertible note. In the case of a convertible note, an investor will receive equity if they have not been repaid at the loan's maturity date. This is an important milestone because you will have your first company valuation. If you choose to issue equity, value your company at $1 million, and need $100,000 in angel funding, then your company valuation after receiving funding will be $1.1 million, and you will have given away 1/11 of the equity of your company.
All startups need to have an exit strategy. Either they will keep going through rounds of funding until they go public, or they will try to find a niche in an already developed market and work towards a merger or acquisition. Facebook held its IPO on May 18, 2012, the biggest ever for a technology company. Mark Zuckerberg adeptly navigated his company from a Harvard dorm room to an IPO, resisting the temptation of selling to both Viacom and Yahoo. Facebook has acquired numerous companies, most notably, Instagram for $1.01 billion. As Instagram's user base exploded, Facebook quickly moved to acquire the photo-sharing platform. Facebook's path to an IPO was not as smooth as most assume. In Facebook's 2007 Series C round of funding, Microsoft purchased a 1.6% stake for $240 million, giving Facebook a valuation of $15 billion. In Facebook' 2009 Series D round, Digital Sky Technologies bought a 2% stake for $200 million, dropping Facebook's valuation down to $10 billion. A decreased valuation hurts the position of everyone with a stake in the company. Following their Series D round, Facebook's stakeholders watched their holdings drop to 2/3 of their prior value. Facebook has since rebounded nicely, however a less developed company can go under following a decreased valuation. A decreased valuation is one of the many ways that a startup can fail. An article published on Business Insider last June captures nearly all of the paths to failure for a young company. The exit strategies, or lack thereof, these companies planned to carry out simply failed, as is the case with most startups.
Tremor Video and Yume are two smaller scale companies, prominent in the digital media space, which recently went public. Yume's shares first began trading on the NYSE on August 7, 2013. They were strategically priced at $9, well below the expected range of $12-$14. This came in response to Tremor Video's disappointing first month since going public. Tremor Video held their IPO on June 27, 2013 and priced each share at $10. Less than 2 weeks later, share prices had dropped as low as $6.81. Shareholders are anxiously anticipating Tremor Video's announcement of their Q2 earnings. This will allow accurate for predictions of thee company's outlook. Yume, hoping to avoid similar concerns, saw their stock price close their first day right where it started. So far so good for Yume; they hope their growing profitability will lead to large returns for investors.
Yume and Tremor Video are part of the extreme minority of companies that are fortunate enough to file an S-1. A startup realizing its exit strategy is just like winning a championship in an 18+ Men's basketball league at your Jewish community center. That is the goal, and you need to grow before you can get there.
As I write this final paragraph, I am just an hour away from the end of my summer internship with AC Lion. It has been a great ride, giving me exposure to the digital media world that I was always close to, but was never a part of. At AC Lion, I was a part of something. I grew close with the interns, working on various projects together. I learned a lot from my bosses/mentors Alex Yee and David Carona aka Doc Knowledge. I owe them a lot and look forward to keeping in touch with everyone at AC Lion.

Ariel Lopez • Aug 8, 9:32am
The employment process is often much like dating. You spend time searching through tons of prospects in hopes of finding the right "fit." It's often very time consuming, nerve wracking, and it may take a few duds before you find success. The first interview with a company can remind you of a first date: you spend days preparing for the big moment, hoping that you say all of the right things and do your best to bring your A game.
Of course, as a job seeker, you want to make sure you leave the right impression, but many people forget that an interview is meant to be interactive. The purpose behind interviewing – like dating – is to give both parties the opportunity to feel each other out. You have to be engaged, attentive and actually offer value if you expect to get a call back. As with a bad date, one false move or bad response could immediately eliminate all hopes of securing your dream job.
Here are a few things to avoid:
Never ask about something you could have easily looked up
Asking what the company does, who the founders are, or general questions about the role you're interviewing for can put you out of the game – fast! Look at the company website and spend time studying what they do and where they're going in the future. I often suggest looking into competitors, as well, just to get a feel of the company's positioning in the marketplace. Also review the job description! That is an easy way to gage what area the company needs support in, and it can give you a guide as to how you can provide value. Always highlight how you can provide the solution to their problems.
Never ask about time off, lunch breaks, or holiday schedules
You haven't gotten the job yet, so none of this matters! If you ask about any of this on the first interview, it's basically suggesting that you don't really care about the job; you just want to know about the perks. These questions are only appropriate later on in the process (like if you get are expecting an offer), after the company has shown genuine interest in bringing you on board.
Never ask about drug tests or background checks
Very simply put, don't be an idiot. If you ever initiate a conversation about this, you're screaming, "I have something to hide, and I want to cover it up before it's too late." I've never heard of someone being hired after asking about a screening process.
Never ask about compensation
Inquiring about how much the job pays during the initial interview translates to the interviewer asking you to get the hell out of his office. Of course, compensation matters.
You want to make sure the job can support your comfortable lifestyle. However, it should NEVER be brought up on the first interview. It's best to do your research to see if it's in the range of what you're looking for.  Look up reviews to see what other people at the company make. You can also research the specific position to gain a better understanding of what's fair in the market for the role at hand.
Most importantly, be confident, and be yourself! Don't do anything strangely out of character, keep your head up and try to keep your nerves controlled. Also, bring out as much of your personality as possible. Remember, different companies garner unique cultures. If you don't seem like a good fit for the company's goals and environment, it can hurt your chances. Proper preparation, good questions, a bit of humor and great body language can get you very far.
Good luck!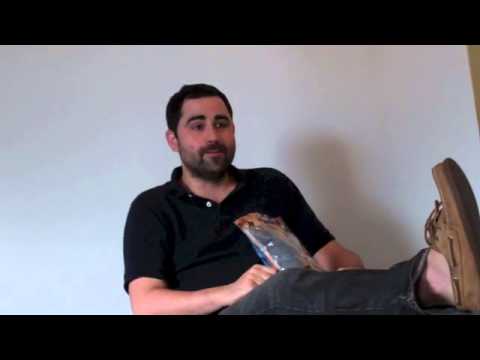 Photo courtesy NBC Suits
Every Tuesday at noon, AC Lion holds information sessions about various parts of our industry. Last week, we were fortunate to have Raju Rishi, a partner at Sigma Prime Ventures, come in and speak about his experiences as a VC.  This week, our very own Giles Van Praagh gave a talk on Startups and Venture Capital. Before joining AC Lion as a Director of Recruiting, Giles spent four years at an investment bank, and the prior 15 years working as an equity analyst. During his time as an investment banker, Giles helped many digital media companies secure funding. He is on the same page with Rishi in regards to the importance of a strong team. Giles made an interesting point about entrepreneurs in general. He said that even if someone was previously part of a failed startup, this does not necessarily raise a red flag to potential investors. If this person understands the mistakes they made with their past venture and is able to apply the lessons of their mistakes to their new business approach, this strengthens their team's pitch and chances of success.
Giles also discussed the importance of being able to understand your product's market. Business pitches often become diluted if entrepreneurs create products that take too many angles. Typically, the safest and most well received route for capital-seeking entrepreneurs is to identify one particular problem their product will solve. This helps investors visualize market fit and viability. Building on this, Giles stressed the importance of customer response. As he put it, "traction is everything." If your product locks in a consistent, loyal consumer base, investors will recognize this and provide further funding on the path to a lucrative exit. Giles' background provides a vast network that facilitated his seamless transition from helping companies raise capital to providing companies with human capital.
As part of AC Lion's 2013 Intern Program, we have asked members of our team to write about programs and activities at AC Lion that have helped shape their understanding of the digital media landscape.  Intern Gil Kaplun shares his experience and what he's learned about the relationship between the VC space and the recruiting world after meeting with Sigma Partners Venture Capitalist Raju Rishi last Wednesday.
My name is Gil Kaplun and I am a Summer Intern for AC Lion. I am a rising junior at Emory University pursuing a BBA with a concentration in Finance. When I interviewed with AC Lion our COO Bonnie Zaben, told me I would learn all about the digital media space and recruiting.  She said additionally that I would learn about different areas within the finance and venture capital space that pertains to the digital arena.  After taking Corporate Finance during the second semester of my sophomore year, I was fairly certain that I wanted to pursue a career in Finance but was unsure in what area. I hoped that my summer internship with AC Lion would help point me in the right career direction. During my first week I researched a multitude of digital startup companies.  All of them had recently received a significant round of funding (Series A all the way through to Series D) and I wanted to understand why some companies received VC backing and others didn't.  I had never been exposed to Venture Capital prior to working at AC Lion and it immediately spurred my interest.
My bosses, David Carona and Alex Yee, noticed my new interest and began to tailor my assignments around it. They started out very broad, and simply had me research companies that I felt could be future clients for AC Lion. I went in believing I just might find the next gem of tech startups. After three hours on CrunchBase, I realized how much I had to learn. I felt that Venture Capital could be my future, and was eager to continue exploring the world of VC at AC Lion.
Fast-forward four weeks: it is Wednesday, July 10th. During our weekly staff meeting, a Venture Capitalist, Raju Rishi, came in and spoke to us about the VC world.  He touched on a variety of different topics including what he looked for when evaluating an investment opportunity.   He detailed 5 fundamental components he looks for in a company: team, market opportunity, product, competition, and business model. Building a successful company from scratch requires intense dedication and drive. Regardless of the potential market fit, existing competitors, or quality of a business plan – startups will fail without a capable leader and a cohesive, effective team. Successful VCs must hear a pitch that inspires confidence in the team.   Raju also spoke about how important adaptability is to a startup's sustained success. They need to have a deep understanding of their market so they can pivot their product's direction when necessary. This can be necessary for a company's survival in an extremely innovative and fluid market.
Lastly, Raju discussed the link between venture capital and recruiting. I had never made the connection between these two fields but now see the inherent benefits of two-way interactions between each space after our conversation. From the side of a recruiter, any leads are always huge. A hot job opening gets filled quickly so long as the right people are presented.  A Venture Capitalist often will hesitate to invest in a company unless the right people are in place and working together seamlessly.  VC's will make recommendations to potential startup's about what type of personnel to attract and hire and the best way to obtain the best hire. The collaboration between a VC, its investment, and recruiting agencies are therefore paramount to the success of each entity. AC Lion has found its niche in the digital media space, and continued collaboration with Venture Capitalists such as Mr. Rishi will lead to new opportunities for candidates and improve the company's bottom line.
Photo sharing sites too complicated? Check out this aesthetically pleasing app that makes sharing albums with family and friends so easy!